---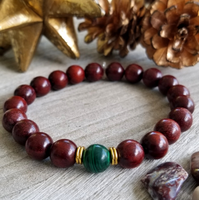 This piece features beautiful, red sandalwood accented with one gemstone for a casual look.
Materials:
Gold pewter spacer
Red Sandalwood
Reconstituted Malachite is a stone of balance, abundance, manifestation and intention.
Every piece is handmade and one-of-a-kind. Because wood and natural stones are used, the item you receive may slightly differ in color.
Average men's size is 8.5 inches; Average women's size is 7.5 inches.
Most pieces are made to order and may take 1-3 business days to ship.
Want something created just for you and your style? Visit our custom listing to have Arm Candy created just for you.