---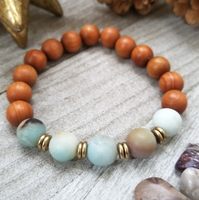 This piece features warm, aromatic sandalwood accented with gemstones for a casual look.
Materials:
Gold pewter spacers
Barbie Sandalwood
Amazonite is known to have healing powers to help with physical ailments, emotional issues (including stress), and in Energy Healing and chakra balancing.
Every piece is handmade and one-of-a-kind. Because wood and natural stones are used, the item you receive may slightly differ in color.
Average men's size is 8.5 inches; Average women's size is 7.5 inches.
Most pieces are made to order and may take 1-3 business days to ship.
Want something created just for you and your style? Visit our custom listing to have Arm Candy created just for you.