---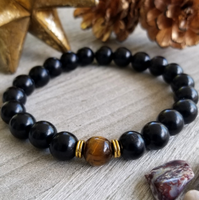 This piece features bold, black Indonesian blackwood accented with one gemstone for a very masculine look.
Materials:
Gold pewter spacer
Blackwood 
Tigers Eye is a powerful stone that helps you to release fear and anxiety and aids harmony and balance. It stimulates taking action, and helps you to make decisions with discernment and understanding, and unclouded by your emotions.
Every piece is handmade and one-of-a-kind. Because wood and natural stones are used, the item you receive may slightly differ in color.
Average men's size is 8.5 inches; Average women's size is 7.5 inches.
Most pieces are made to order and may take 1-3 business days to ship.
Want something created just for you and your style? Visit our custom listing to have Arm Candy created just for you.